The current state of manufacturing in Singapore
August 28, 2023
Despite its small size, Singapore boasts the most advanced economy in Southeast Asia and ranks among the world's most stable. We take a look at the current state of its manufacturing landscape and plans for the future.
Though being one of the smallest countries in Southeast Asia, Singapore has the most advanced economy in the region and one of the most stable in the world. The country is a dependable partner for enterprises from all over the world thanks to its political stability, sound monetary and fiscal policies, strong legal system, low levels of corruption, and transparent public institutions, which together support the low-risk economy of the nation. Consistently ranked as one of the world's best places to do business, Singapore attracts companies and professionals from over the world eager to work in such a thriving economy.
Manufacturing as a key industry
Manufacturing plays a substantial role in Singapore's economy, contributing around 20% to 25% of its GDP and enjoying strong support from the government. The sector employs approximately 12% of the country's workforce and offers median wages that are 10% higher than the overall economy's median. Notable industry clusters in Singapore's manufacturing landscape encompass electronics, petrochemicals, biomedical sciences, aerospace, marine and offshore, as well as logistics and transport engineering.
Precision engineering is one of the crucial branches of the manufacturing industry in Singapore. With more than 2,700 precision engineering firms, it plays a crucial role in supplying essential products and expertise required for manufacturing complex components and equipment in high-tech industries like semiconductors, medical technology, marine, offshore, and aerospace. Beyond semiconductors, Singapore plays a significant role in the worldwide supply chain for a variety of next-generation components, including those for microelectromechanical systems (MEMS), nanotechnology products, 3D printing systems, automation, and robots. 20% of the world's output of semiconductor equipment, which includes computer chips, is produced in Singapore.
Future in Industry 4.0 and International Trade
As part of its Economy 2030 strategy, in 2021 Singapore revealed its ambition to expand the manufacturing sector by 50% by 2030, aiming for both quantitative growth and a "qualitative transformation" with a greater emphasis on advanced manufacturing. This is consistent with the advances of Industry 4.0, where manufacturing is moving toward becoming more technologically advanced while becoming less labour-intensive, which is appropriate for a small country with a small population.
Apart from limited workforce and natural resources, Singapore suffers low space capacity for industrial real-estate. Expanding and outsourcing production to neighbouring regions such as Batam in Indonesia is one solution which has allowed companies like Team-Metal to advance its manufacturing capabilities and offer its clients a wider spectrum of products and more efficient services. Singapore's role as the primary regional trading center in the Asia-Pacific, coupled with various research and development grants and a proficient, English-speaking workforce, act as the driving forces for the expansion of international trade. Singapore's leading partners for contractor manufacturing and the trade of finished equipment parts are the US, China, EU, Malaysia, and increasingly so in the recent years, Australia and Oceania.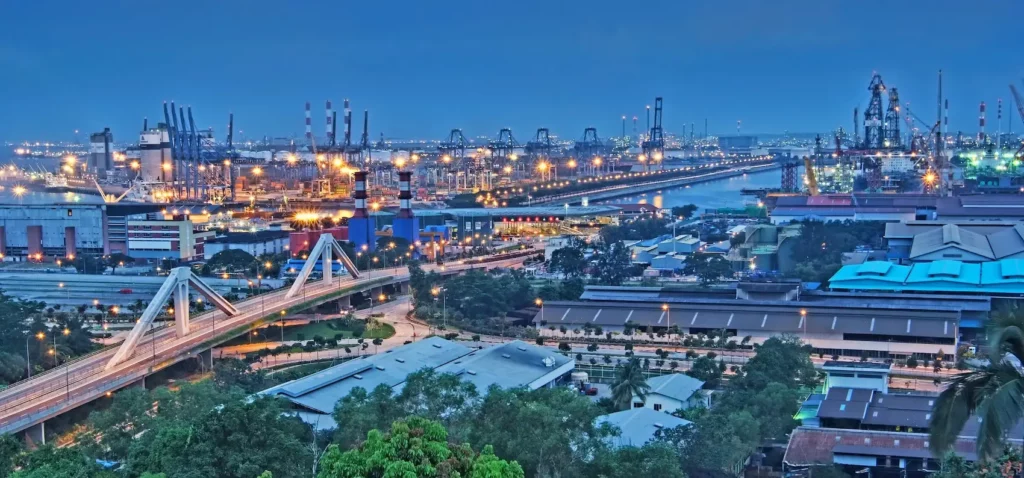 With over 35 years of experience in precision micro mechanics, production facilities in China and Indonesia, and over 600 employees, Team-Metal specializes in the manufacturing of a variety of precision components especially serving the medical, analytical, automotive, life science and many other industries. The company operates on a high-mix low-volume production model, enjoying trust of clients all over the world. Our services include value engineering, engineering development, rapid prototyping and turnkey management.
Andy He, Team Metal's New Sales Manager

Team Metal welcomes Andy He as its new Sales Manager, bringing over 15 years of precision engineering experience spanning electronics, automotive, and healthcare. Andy's leadership has expanded Team Metal's industry connections, driving effective lead generation and fostering accurate sales forecasts for enhanced growth.

Read more

Team-Metal Invests in Zirconia Blasting Machine

To reinforce its position as an all-in-one contract manufacturer, and to add to its surface finishing capabilities, Team-Metal has invested in a new Zirconia blasting machine. From April of 2023, Team-Metal clients have been able to order components with a Zirconia bead blast finish. This leaves parts with a clean homogenous surface free of oxides […]

Read more